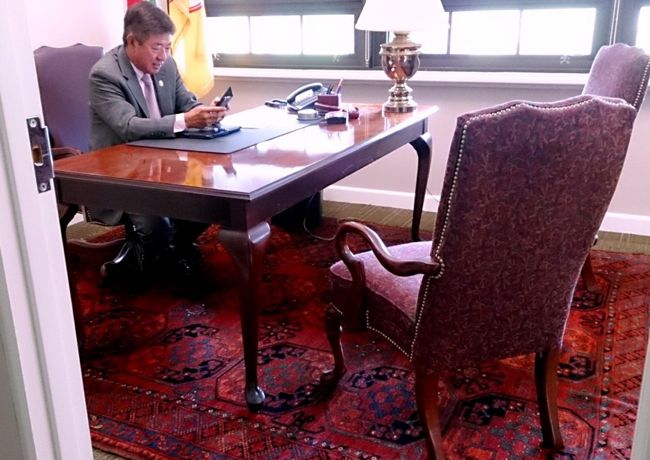 One of the largest and oldest of three beautiful oriental rugs that once graced the halls of Anita Baldwin's famed Anokia estate has taken up new residency in the Mayor's office at Arcadia City Hall.
After some minor repairs and professional cleaning, the made in Afghanistan 8' x 10' hand knotted and 100 percent hand spun on wool foundation rug which had been sheltered in local storage for many years, is now on display for anyone to see who visits the City Manager's office.
Baldwin's charming rug joins an English provincial desk once part of Anita's estate that was placed in the Mayor's office a few years ago. The rug's hexagon designed medallions run throughout the field and gives the luxurious carpet its distinctive look. Experts refer to the stylized design and pattern as "Bokara," a famous type of handwoven carpet known throughout the Middle Eastern world.
With a rusty ox blood background and almost same shade borders, this magnificent rug boasts at least a hundred years in age. It is In excellent condition, and according to the experts, the rug's appraised value is around $3,000. It is widely known that Anita Baldwin took several trips abroad and it is thought this rug –along with the other two — were purchased by Anita on one of her trips to the Middle East.
President Gene Glasco and the Arcadia Historical Society board of directors agreed that Anita's rugs, whose father was founder of Arcadia, Elias J. "Lucky" Baldwin, should be displayed for the public to enjoy. With an eye towards historic preservation, the City Manager's office accepted the Society's offer to display Baldwin's rug in the Mayor's office, which in turn has made it one of City Hall's very unique rooms.