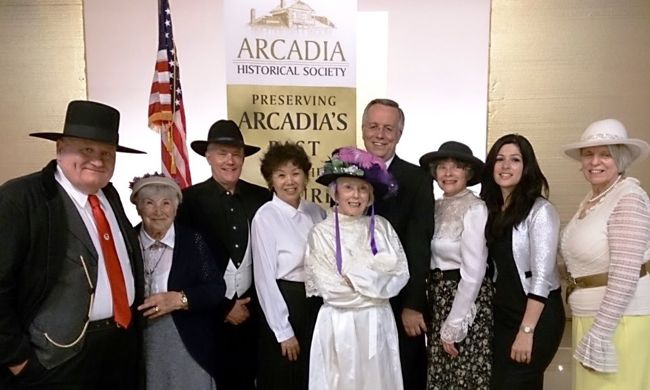 The Arcadia Historical Society Board of Directors tested their thespian prowess on an audience of happy society members, guests and VIPs at their General Meeting and Dinner on May 29.
Personages from Arcadia's early beginnings were portrayed by Society board members in short monologues presented ala "theatre in-the-round" with characters in costume. "Lucky" Baldwin, was played by the inimitable Scott Hettrick, with Gail Marshall reviving Baldwin's daughter Anita, while Beth Costanza was an impressive Clara Baldwin, Beverly Street played Flora McCoy, Gil Stromsoe stood in for Hiram Unruh, Char Wong as Mary Rubidoux-Arcadia's first teacher, Carol Libby as Claire Charles, and a charismatic William Parker Lyon who established the the Pony Express Museum in 1935, was acted out by Gene Glasco.
Over 75 people enjoyed a wonderful dinner followed by presentations of star-shaped candy bowls to past Society presidents and City Council members Sho Tay and Tom Beck.
It was a fun evening and fitting venue, as the Arcadia Woman's Club is celebrating their 100 year anniversary this year which the Society emphasized in their meeting's opening remarks and recognized later with a beautifully decorated Woman's Club Centennial cake for dessert.