The Thoroughbred Racing Walk of Champions' gala event "A Salute in Red and Black" will honor the champion horses Zenyatta and Lava Man on May 24.
Other 2015 and 2016 inductees are jockey Chris McCarron and trainers Gary Jones, Ron McAnally, Mike Mitchell and Mel Stute.
Also, Buddy Johnston's Old English Rancho thoroughbred farm and racing filmmaker Joe Burnham.
Special recognition to Triple Crown-winning jockey Victor Espinoza for his achievements in the sport and community service. (text continues)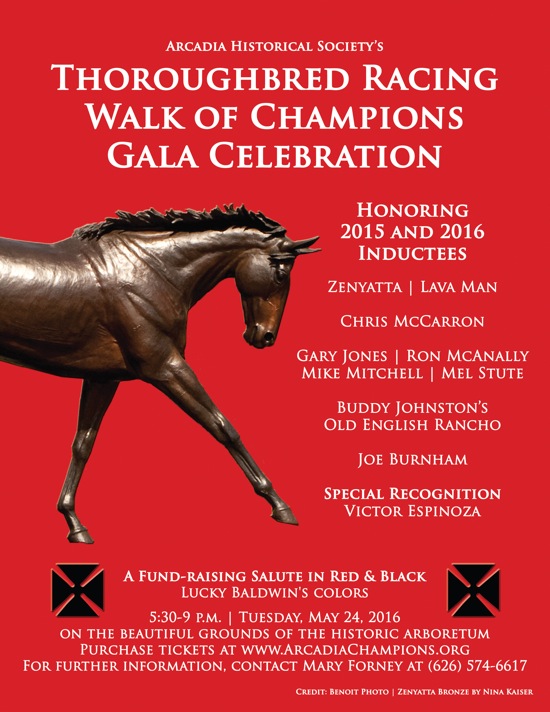 The gala will honor the Racing Walk's 2015 and 2016 inductees with a preview display of their bronze plaques. The event runs from 5:30 to 9 p.m. on May 24, on the grounds of the L.A. County Arboretum, 301 N. Baldwin Ave. in Arcadia.
Proceeds from the celebration will fund the placement of engraved informational bronze plaques in the sidewalks of downtown Arcadia.
Details:
For tickets to the event, visit arcadiachampions.org
Also, learn about event sponsorship opportunities.
Read more about the Salute in Red and Black event.
The Thoroughbred Racing Walk of Champions is presented by the Arcadia Historical Society.