Carol Libby of the Arcadia Historical Society received the award for Arcadia Senior of the Year at the annual Rotary Salute to Seniors luncheon May 10.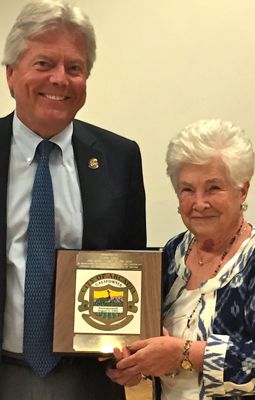 This is the second time around for Carol, who also received the award in 2001. She is 1st Vice President of the Arcadia Historical Society.
After acknowledging many of Carol's accomplishments, Mayor Tom Beck presented Carol with a plaque and said, "You probably have a whole wall of awards. No one deserves it more than you, Carol." The luncheon was at the Arcadia Community Center.
Many Arcadians know Carol through her involvement as past PTA president of Baldwin Stocker and First Avenue; as curator of the Society's Historical Museum from 1995 to 2001; as volunteer for more than 25 years at the Los Angeles County Arboretum and Botanic Garden; as past program chairwoman and vice president with the Arcadia Friends of the Library; as initiator in the relocation and restoration of the Hugo Reid Family statue in 2003; as board member with the Arcadia Historical Society; and as author of "Chronicles of Arcadia" in 2012 and "Faces and Footprints in Arcadia's History" in 2014.
Carol also continues to write and create short theatrical skits, historical fashion shows and programs for members of the Arcadia Historical Society. Currently, Carol is writing "Historical Tidbits," which consists of snippets of Arcadia history, photos and facts sent out on a weekly e-mail blast through Constant Contact.
Upon receiving the plaque from Mayor Beck, Carol related that in the early 1960s, "I put my two boys in a wagon and went from door to door passing out fliers to support the building of an auditorium. I met people, made friends and that felt good. When you go out in the community, you can glean a great deal of goodness from your neighbors." Carol believes in the community spirit and getting involved.
Carol then gave a shout out to George Fasching for his effort in getting the Van de Camp's Windmill moving again, currently atop Denny's restaurant at Huntington and Santa Anita.
Carol went on to say, "Historic preservation is right on the top of my list," to the applause of all in the room.