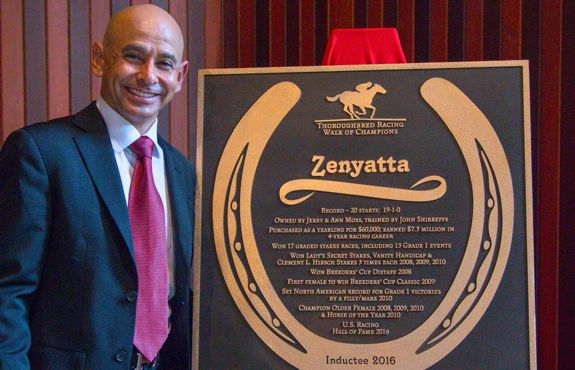 Arcadia Historical Society's Thoroughbred Racing Walk of Champions will unveil its plaque honoring "Queen of Racing" horse Zenyatta on Wednesday, Nov. 2.
The event, cosponsored by the City of Arcadia and the Breeders' Cup, runs 5-9 p.m. It will feature a band, booths and food trucks, as well as distribution of commemorative Zenyatta Makers' Mark bourbon bottles.
The celebration will be on First Avenue between Huntington Drive and Wheeler Avenue, with the unveiling of the Zenyatta plaque at 7 p.m. at the bandstand located at First and Wheeler.
Arcadia Mayor Tom Beck and Breeders' Cup CEO Craig Fravel are scheduled to make remarks. Joining them will be Zenyatta's famous jockey, Mike Smith, and her trainer John Sherriffs.
The oversized Zenyatta bronze plaque will be permanently installed at the Gold Line Transit Plaza soon after the dedication event, immediately adjacent to a city kiosk that will feature Walk of Champions highlights as well as an article on the great race mare herself.
Zenyatta was previously announced as part of the 2015-2016 group of inductees for the Thoroughbred Racing Walk of Champions.