The Arcadia Historical Society is about to unveil its 11th "History Lives Here" informational marker.
The new double-sided sign features the many railroads that once crisscrossed Arcadia, as well as Lucky Baldwin's stately Hotel Oakwood.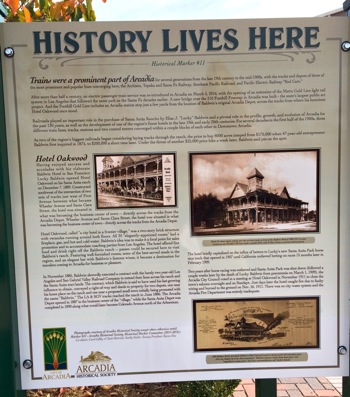 The marker will be unveiled at 2 p.m. on Thursday, Jan. 26, at the Arcadia Transit Plaza — former site of the Atchison, Topeka and Santa Fe Railway's Arcadia Depot.
Earlier this year, the light-rail Foothill Gold Line resurrected train service at the same location.
For several decades in the first half of the 1900s, three different train lines, tracks, stations, and two control towers operated within several blocks of each other in Downtown Arcadia, where passengers also could board the iconic Los Angeles Red Cars.

Directly across the street stood Elias Jackson "Lucky" Baldwin's elaborate Hotel Oakwood, one of the region's finest hotels in the late 19th and early 20th centuries.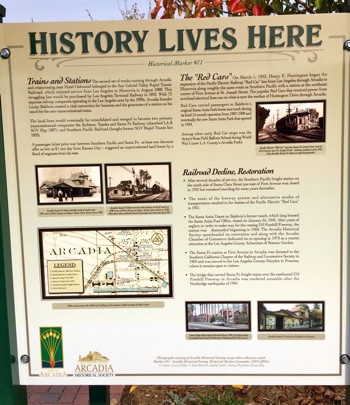 The History Lives Here markers are just one of the many regular activities and events created year-round by the non-profit Historical Society. The signs are an integral part of the Society's mission to create broader public awareness of noteworthy historical events, people and landmarks in Arcadia.
Since the first marker was dedicated in October 2007, others have gone up at Santa Anita Park, the Arboretum, L.A. County's Arcadia Park, the Derby restaurant, Adams' Pack Station in the Angeles National Forest, and several other historical locations in Arcadia.
The City of Arcadia co-funded and installed many of the markers.
(click on images for larger version of photo)