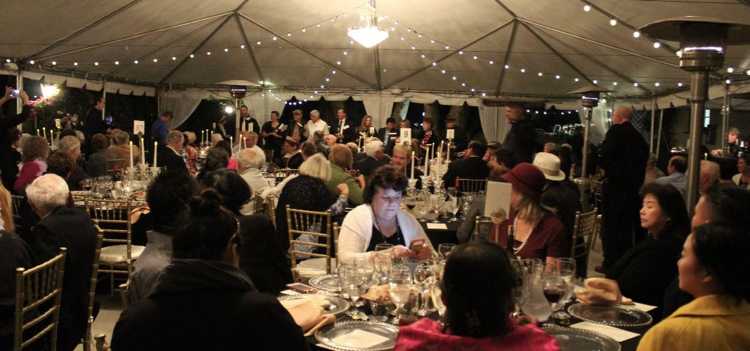 The Arcadia Historical Society celebrated its 65th birthday with a Mystery Dinner at the Gatsby Estate — aka Prince Erik Hall — on Nov. 12.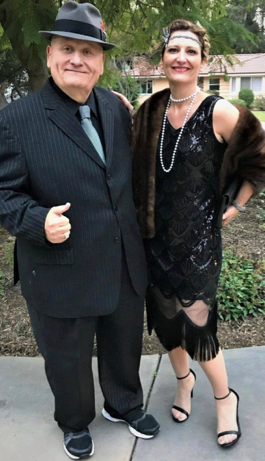 The mystery was based on a real murder that occurred at the White Oak Gas Station, which once stood on Foothill Boulevard near Santa Anita Avenue. Guests had to identify the murderer(s) from a cast of characters, helped along by clues placed at each table.
In the real case, it was rumored that Charles Forbes and Marge Jones buried their loot from a heist in the San Gabriel Mountains just above Arcadia. Though the "treasure" has not been found, residents continue to hunt for it.
The evening began with photos in front of a vintage truck and guests being fingerprinted by Arcadia High School men and women dressed in 1920s garb. Attendees then entered the reception hall and enjoyed vodka fresca martinis, wine and appetizers while waiting for the evening to begin. And it began with a bang — with a waiter being "shot!" At which point, guests were led to the dining area to be interrogated by Detective Inspector Ego Mikitas.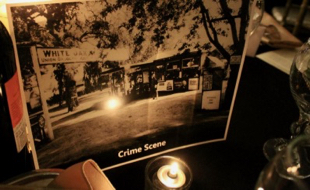 Guests at each table read clues to help determine which character(s) took part in the crimes. As the interrogation progressed, guests discovered that the murderer of Marge Jones at the White Oak Gas Station was the sharp-shooting Annie Oakley, played by Kim Brink. This act was at the request of Lady B. Goode, portrayed by City Councilmember April Verlato, who was the wife of the vicious killer, Charles Forbes. It was Lady B. Goode's actual intent to do away with her husband, but Marge Jones got in the way.
An unknown drifter by the name of Ian committed the crime of the evening when he "shot" a staff waiter. Dr. Hobbs Knobbs, portrayed by former Mayor Bob Harbicht, paid the drifter to do the deed because he wanted to quiet the waiter, who had learned of Lady B. Goode's contract hit on Charles Forbes. Dr. Hobbs Knobbs was in love with Lady B. Goode and wanted to protect her.
In the end, all of the characters were involved in some sort of illicit activity and received a sentence of "death by chocolate." Arcadia historian Carol Libby researched the history of the event, with Sandi McQuilkin of Santa Anita Gardens Catering writing the script. The cast of characters included local Arcadians.
Cast of characters:
Ruby Red, Bank Teller: Jan Shimmin
Phil R. Up, Gas Station Owner: Lee Shimmin
Dr. Hobbs Knobbs: former Mayor Bob Harbicht
Macun A. Deal, Pawn Shop Owner: Burton Brink
Shady Sal, Speakeasy Manager: Lisa Walton
Rip Toff, Jeweler: City Clerk Gene Glasco
Deputy Fife, Police Officer: Mayor Pro Tem Sho Tay
Tawney Chablis, Newspaper Editor: Galen Patterson
Lady B. Goode, Gangster Forbes' Wife: City Council Member April Verlato
Annie Oakley, Gun Shop Owner: Kim Brink
Photos and article provided by Carrie Lynn Barker, Arcadia Chamber of Commerce, except for Glasco-Verlato photo, which is courtesy of Gene Glasco.
More event photos