The Historical Society seeks to educate, inform and involve the community in the preservation and celebration of the heritage of Arcadia, California.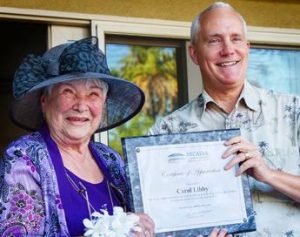 The Society holds three general membership meetings each year — in November, January and May. A program of historical interest is the highlight of these meetings. At the Annual Meeting, members in good standing are eligible to vote for the Historical Society's Board of Directors.
The Historical Society's current president is Karen Hou. View list of the current Arcadia Historical Society Board of Directors.
The Society has an office in the historic Prince Erik Hall building, located on the grounds of the Santa Anita Congregational Church on South Santa Anita Avenue in Arcadia. The Society's collection of historic photographs, books and publications are housed here and can be accessed by the public by appointment. Please call (626) 446-8512 for information and availability.
History of the Arcadia Historical Society
In the fall of 1952, the Historical Committee of the Arcadia Woman's Club sponsored an organizational meeting with the intent to form a group that would help preserve the history of Arcadia. The meeting was well attended and 101 people became Charter Members of the Arcadia Historical Society. Six months later, as the group began developing its policies and procedures, membership grew to 166.
Purposes of the organization would be to provide a place for fellowship, collect historical data and relics, preserve historic sites and traditions and to participate in community observances of a civic and cultural nature that emphasize historical aspects.
In 1954, the organization became incorporated and received its non-profit status.
A tradition of community service
The Society has made many contributions to the community in more than 60 years. These include:
Donations of furnishings for the Queen Anne Cottage at the Arboretum (1956).
The successful campaign to save the Santa Anita Depot and its subsequent restoration and relocation to the grounds of the Arboretum (1962 to 1970).
Assembling a "Library of Slides" depicting the history of Arcadia to help celebrate the National Bicentennial Year (1976).
Operating a Historical Museum (1986 to 2001).
Collaborating with the City of Arcadia to build the current Gilb Museum of Arcadia Heritage (2001).
The strategically positioned "History Lives Here" historical markers located about the city, the Arboretum and the Adams Pack Station in nearby Santa Anita Canyon.
Sponsoring the Thoroughbred Racing Walk of Champions, a project featuring sidewalk plaques in Downtown Arcadia, that is currently being implemented and expanded.