Elias Jackson Baldwin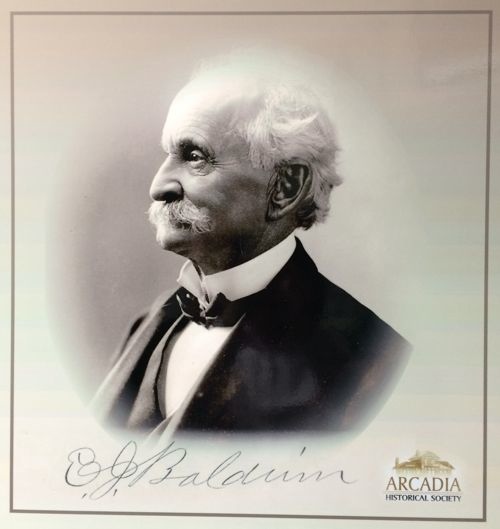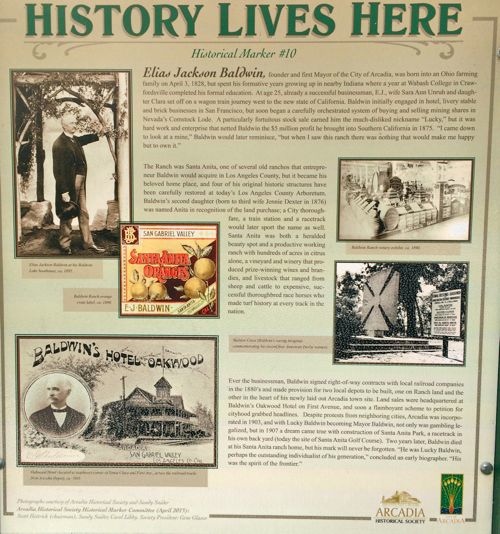 (Click image for enhanced view.)
Location: On the rose garden island separating Campus Drive and Huntington Drive, at Holly Avenue, just to the west of the Arcadia Community Center. Note: The "Lucky" Baldwin statue, in the same vicinity, was commissioned and donated by his great, great, great granddaughters Margaux Viera and Heather Gibson.
Dedicated in 2013.
Panel 2
Sign text: Elias Jackson Baldwin, founder and first Mayor of the City of Arcadia, was born into an Ohio farming family on April 3, 1828, but spent his formative years growing up in nearby Indiana where a year at Wabash College in Crawfordsville completed his formal education. At age 25, already a successful businessman, E.J., wife Sara Ann Unruh and daughter Clara set off on a wagon train journey west to the new state of California. Baldwin initially engaged in hotel, livery stable and brick businesses in San Francisco, but soon began a carefully orchestrated system of buying and selling mining shares in Nevada's Comstock Lode. A particularly fortuitous stock sale earned him the much-disliked nickname "Lucky," but it was hard work and enterprise that netted Baldwin the $5 million profit he brought into Southern California in 1875. "I came down to look at a mine," Baldwin would later reminisce, "but when I saw this ranch there was nothing that would make me happy but to own it."
The Ranch was Santa Anita, one of several old ranchos that entrepreneur Baldwin would acquire in Los Angeles County, but it became his beloved home place, and four of his original historic structures have been carefully restored at today's Los Angeles County Arboretum. Baldwin's second daughter (born to third wife Jennie Dexter in 1876) was named Anita in recognition of the land purchase; a City thoroughfare, a train station and a racetrack would later sport the name as well. Santa Anita was both a heralded beauty spot and a productive working ranch with hundreds of acres in citrus alone, a vineyard and winery that produced prize-winning wines and brandies, and livestock that ranged from sheep and cattle to expensive, successful thoroughbred race horses who made turf history at every track in the nation.
Ever the businessman, Baldwin signed right-of-way contracts with local railroad companies in the 1880s and made provision for two local depots to be built, one on Ranch land and the other in the heart of his newly laid out Arcadia town site. Land sales were headquartered at Baldwin's Oakwood Hotel on First Avenue, and soon a flamboyant scheme to petition for cityhood grabbed headlines. Despite protests from neighboring cities, Arcadia was incorporated in 1903, and with Lucky Baldwin becoming Mayor Baldwin, not only was gambling legalized, but in 1907 a dream came true with construction of Santa Anita Park, a racetrack in his own back yard (today the site of Santa Anita Golf Course). Two years later, Baldwin died at his Santa Anita ranch home, but his mark will never be forgotten. "He was Lucky Baldwin, perhaps the outstanding individualist of his generation," concluded an early biographer. "His was the spirit of the frontier."
Photos on left:
Elias Jackson Baldwin at his Baldwin Lake boathouse, ca. 1895.
Baldwin Ranch orange crate label, ca. 1890.
Oakwood Hotel (located at southwest corner of Santa Clara and First Ave., across the railroad tracks from Arcadia Depot), ca. 1895.
Photos on right:
Baldwin Ranch winery exhibit, ca. 1890.
Maltese Cross (Baldwin's racing insignia) commemorating his record four American Derby winners.
Photographs courtesy of Arcadia Historical Society and Sandy Snider
Address:
375 Campus Drive,
Arcadia, CA 91006
More markers