Arcadia Depots, Hotel Oakwood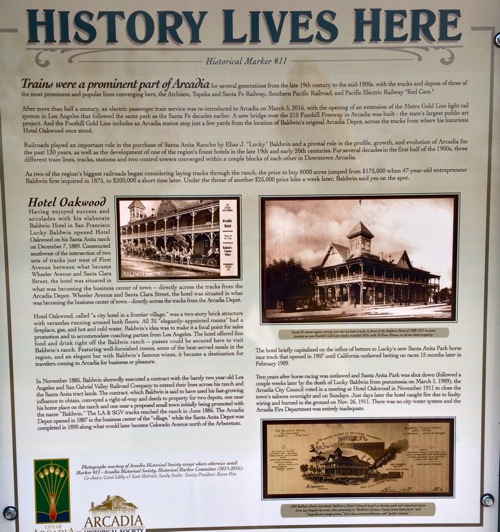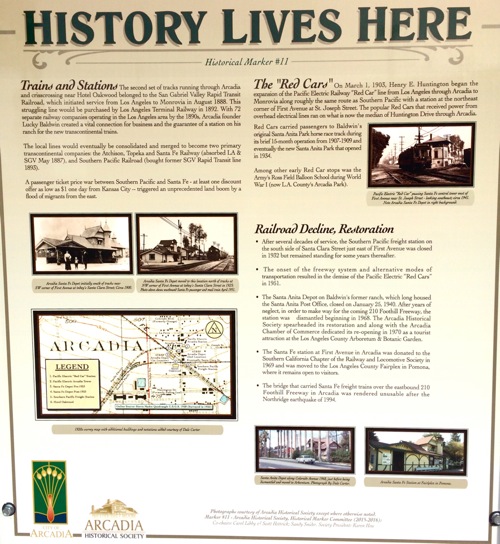 (Click image for enhanced view.)
Location: Arcadia Transit Plaza, Santa Clara Street and First Avenue
Dedicated in 2017.
Panel 1
Sign text: Trains were a prominent part of Arcadia for several generations from the late 19th century to the mid-1900s with the tracks and depots of three of the most prominent and popular lines converging here, the Atchison, Topeka and Santa Fe Railroad and Pacific Electric Railway "Red Cars."
After more than half a century, an electric passenger train service was re-introduced to Arcadia on March 5, 2016, with the opening of an extension of the Metro Gold line light rail system in Los Angeles that followed the same path as the Santa Fe decades earlier. A new bridge over the 210 Foothill Freeway in Arcadia was built — the state's largest public art project. And the Foothill Gold line includes an Arcadia station stop just a few yards from the location of Baldwin's Arcadia Depot, across the tracks from where his luxurious Hotel Oakwood once stood.
Railroads played an important role in the purchase of Santa Anita Rancho by Elias J. "Lucky" Baldwin and a pivotal role in the profile, growth, and evolution of Arcadia for the past 130 years, as well as the development of one of the region's finest hotels in the late 19th and early 20th centuries. For several decades in the first half of the 1900s, three different train lines, tracks, stations and two control towers converged within a couple blocks of each other in Downtown Arcadia.
As two of the region's biggest railroads began considering laying tracks through the ranch, the price to buy 8,000 acres jumped from $175,000 when 47 year-old entrepreneur Baldwin first inquired in 1875, to $200,000 a short time later. Under the threat of another $25,000 price hike a week later, Baldwin said yes on the spot.
Hotel Oakwood
Having enjoyed success and accolades with his elaborate Baldwin Hotel in San Francisco, Lucky Baldwin opened Hotel Oakwood on his Santa Anita ranch on December 7, 1889. Constructed southwest of the intersection of two sets of tracks just west of First Avenue between what became Wheeler Avenue and Santa Clara Street, the hotel was situated in what was becoming the business center of town — directly across the street from the Arcadia Depot.
Hotel Oakwood, called "a city hotel in a frontier village," was a two-story brick structure with verandas running around both floors. All 35 "elegantly-appointed rooms" had a fireplace, gas, and hot and cold water. Baldwin's idea was to make it a focal point for sales promotion and to accommodate coaching parties from Los Angeles. The hotel offered fine food and drink right off the Baldwin ranch — passes could be secured here to visit Baldwin's ranch.
Featuring well-furnished rooms, some of the best-served meals in the region, and an elegant bar with Baldwin's famous wines, it became a destination for travelers coming to Arcadia for business or pleasure.
In November 1885, Baldwin shrewdly executed a contract with the barely 2-year-old Los Angeles and San Gabriel Valley Railroad Company to extend their lines across his ranch and the Santa Anita tract land. The contract, which Baldwin is said to have used his fast-growing influence to obtain, conveyed a right-of-way and deeds to property for two depots one near his home place on the ranch and one near a proposed small town initially being promoted with the name "Baldwin." The LA & SGV tracks reached the ranch in June 1886. The Arcadia Depot opened in 1887 in the business center of the "village," while the Santa Anita Depot was completed in 1890 along what would later become Colorado Avenue north of the Arboretum.
The hotel briefly capitalized on the influx of bettors to Lucky's new Santa Anita Park horse race track that opened in 1907 until California outlawed betting on races 15 months later in February 1909.
Two years after horse racing was outlawed and Santa Anita Park was shut down (followed a couple of weeks later by the death of Lucky Baldwin from pneumonia on March 1, 1909), the Arcadia City Council voted in a meeting at Hotel Oakwood in November 1911 to close the town's saloons overnight and on Sundays. Just days later the hotel caught fire due to faulty wiring and burned to the ground Nov. 26, 1911. There was no city water system and the Arcadia Fire Department was entirely inadequate.
Center photos:
"BALDWIN'S RANCH ARCADIA, CAL. / Arcadia Hotel / Open all the Time /
Baldwin's Famous Wines"
Santa Fe steam engine coming into view on train tracks in front of the Baldwin Hotel of 1889-1911 in same location as new Foothill Gold Line tracks installed 2016, with 24 Hour Fitness on former hotel property.
Bottom photo: 1890 Baldwin Hotel's letterhead — Baldwin's Hotel Oakwood touted as having quick and convenient access from Los Angeles by train, close proximity to "Baldwin's famous Santa Anita home farm" and "magnificent orange groves," first class accommodation, and "perfect climate."
Panel 2:
Trains and Stations
The second set of tracks running through Arcadia and crisscrossing near Hotel Oakwood belonged to the San Gabriel Valley Rapid Transit Railroad, which initiated service from Los Angeles to Monrovia in August 1888. This struggling line would be purchased by Los Angeles Terminal Railway in 1892. With 72 separate railway companies operating in the Los Angeles area by the 1890s, Arcadia founder Lucky Baldwin created a vital connection for business and the guarantee of a station on his ranch for the new transcontinental trains.
The local lines would eventually be consolidated and merged to become two primary transcontinental companies; the Atchison, Topeka and Santa Fe Railway (absorbed LA & SGV May 1887), and Southern Pacific Railroad (bought former SGV Rapid Transit line 1893).
A passenger ticket price war between Southern Pacific and Santa Fe — at least one discount offer as low as $ 1 one day from Kansas City — triggered an unprecedented land boom by a flood of migrants from the east.
The "Red Cars" On March 1, 1903, Henry E. Huntington began the expansion of the Pacific Electric Railway "Red Car" line from Los Angeles through Arcadia to Monrovia along roughly the same route as Southern Pacific with a station at the northeast corner of First Avenue at St. Joseph Street. The popular Red Cars that received power from overhead electrical lines ran on what is now the median of Huntington Drive through Arcadia.
Red Cars carried passengers to Baldwin's original Santa Anita Park horse race track during its brief 15-month operation from 1907-1909 and eventually the new Santa Anita Park that opened in 1934.
Among other early Red Car stops was the Army's Ross Field Balloon School during World War I (now L.A. County's Arcadia Park).
Railroad Decline, Restoration
* After several decades of service, the Southern Pacific freight station on the south side of Santa Clara Street just east of First Avenue was closed in 1932 but remained standing for some years thereafter.
* The onset of the freeway system and alternative modes of transportation resulted in the demise of the Pacific Electric "Red Cars" in 1951.
* The Santa Anita Depot on Baldwin's former ranch, which long housed the Santa Anita Post Office, closed on January 25, 1940. After years of neglect, in order to make way for the coming 210 Foothill Freeway, the station was dismantled beginning in 1968. The Arcadia Historical Society spearheaded its restoration and along with the Arcadia Chamber of Commerce dedicated its re-opening in 1970 as a tourist attraction at the Los Angeles County Arboretum & Botanic Garden.
* The Santa Fe station at First Avenue in Arcadia was donated to the Southern California Chapter of the Railway and Locomotive Society in 1969 and was moved to the Los Angeles County Fairplex in Pomona, where it remains open to visitors.
* The bridge that carried Santa Fe freight trains over the eastbound 210 Foothill Freeway in Arcadia was rendered unusable after the Northridge earthquake of 1994.
Top photo, right: Pacific Electric "Red Car" passing Santa Fe control tower west of First Avenue near St. Joseph Street — looking southbound circa 1941. Note Arcadia Santa Fe Depot in right background.
Center photos:
Arcadia Santa Fe Depot initially south of tracks near SW corner of First Avenue at today's Santa Clara Street; circa 1900.
Arcadia Santa Fe Depot moved to the location north of tracks at NW corner of First Avenue at today's Santa Clara Street in 1923; photo above shows westbound Santa Fe passenger and mail train April 1951
1920s survey map with additional buildings and notations added, courtesy of Dale Carter.
Bottom photos, right:
Santa Anita Depot along Colorado Avenue 1968, just before being dismantled and moved to Arboretum. Photograph By Dale Carter.
Arcadia Santa Fe Station at Fairplex in Pomona.
Photographs courtesy of Arcadia Historical Society except where noted.
> Read more about Historical Marker 11.
More markers