Santa Anita Park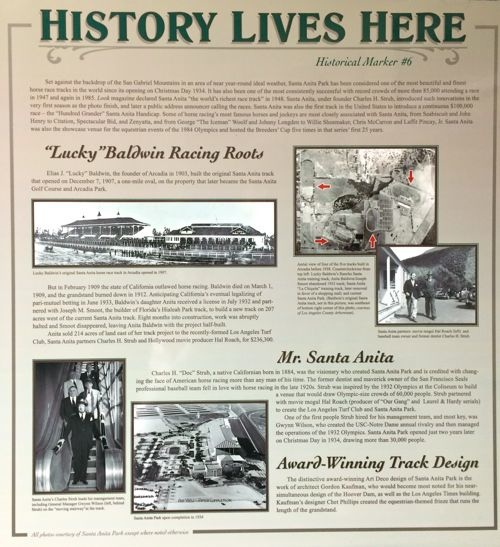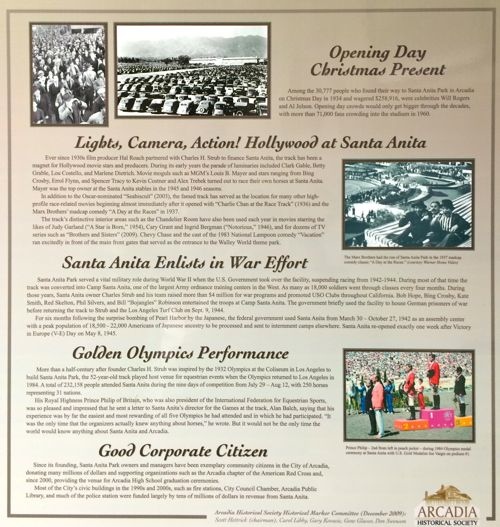 (Click image for enhanced view.)
Location: Inside the eastern admission gate.
Dedicated in 2009.
Panel 1
Sign text: Set against the backdrop of the San Gabriel Mountains in an area of near year-round ideal weather, Santa Anita Park has been considered one of the most beautiful and finest horse race tracks in the world since its opening on Christmas Day 1934. It has also been one of the most consistently successful with record crowds of more than 85,000 attending a race in 1947 and again in 1985. Look magazine declared Santa Anita "the world's richest race track" in 1948. Santa Anita, under founder Charles H. Strub, introduced such innovations in the very first season as the photo finish, and later a public address announcer calling the races. Santa Anita was also the first track in the United States to introduce a continuous $100,000 race — the "Hundred Grander" Santa Anita Handicap. Some of horse racing's most famous horses and jockeys are most closely associated with Santa Anita, from Seabiscuit and John Henry to Citation, Spectacular Bid and Zenyatta, and from George "The Iceman" Woolf and Johnny Longden to Willie Shoemaker, Chris McCarron and Laffit Pincay, Jr. Santa Anita was also the showcase venue for the equestrian events of the 1984 Olympics and hosted the Breeders' Cup five times in that series' first 25 years.
"Lucky" Baldwin Racing Roots
Elias J. "Lucky" Baldwin, the founder of Arcadia in 1903, built the original Santa Anita track that opened on December 7, 1907, a one-mile oval, on the property that later became the Santa Anita Golf Course and Arcadia Park.
But in February 1909 the state of California outlawed horse racing. Baldwin died on March 1, 1909, and the grandstand burned down in 1912. Anticipating California's eventual legalizing of pari-mutuel betting in June 1933, Baldwin's daughter Anita received a license in July 1932 and partnered with Joseph M. Smoot, the builder of Florida's Hialeah Park track, to build a new track on 207 acres west of the current Santa Anita track. Eight months into construction, work was abruptly halted and Smoot disappeared, leaving Anita Baldwin with the project half-built.
Anita sold 214 acres of land east of her track project to the recently formed Los Angeles Turf Club, Santa Anita partners Charles H. Strub and Hollywood movie producer Hal Roach, for $236,300.
Mr. Santa Anita
Charles H. "Doc" Strub, a native Californian born in 1884, was the visionary who created Santa Anita Park and is credited with changing the face of American horse racing more than any man of his time. The former dentist and maverick owner of the San Francisco Seals professional baseball team fell in love with horse racing in the late 1920s. Strub was inspired by the 1932 Olympics at the Coliseum to build a venue that would draw Olympic-size crowds of 60,000 people. Strub partnered with movie mogul Hal Roach (producer of "Our Gang" and Laurel & Hardy serials) to create the Los Angeles Turf Club and Santa Anita Park.
One of the first people Strub hired for his management team, and most key, was Gwynn Wilson, who created the USC-Notre Dame annual rivalry and then managed the operations of the 1932 Olympics. Santa Anita Park opened just two years later on Christmas Day in 1934, drawing more than 30,000 people.
Award-Winning Track Design
The distinctive award-winning Art Deco design of Santa Anita Park is the work of architect Gordon Kaufman, who would become most noted for his near-simultaneous design of the Hoover Dam, as well as the Los Angeles Times building. Kaufman's designer Chet Phillips created the equestrian-themed frieze that runs the length of the grandstand.
Center photo, left: Lucky Baldwin's original Santa Anita horse race track in Arcadia opened in 1907.
Center photos on right: Aerial view of four of the five tracks built in Arcadia before 1938.
Counterclockwise from top left: Lucky Baldwin's Rancho Santa Anita training track; Anita Baldwin/Joseph Smoot abandoned 1933 track; Santa Anita "La Chiquita" training track, later removed in favor of a shopping mall; and current Santa Anita Park. (Baldwin's original Santa Anita track, not in this picture, was southeast of bottom right corner of this photo (courtesy of Los Angeles County Arboretum).
Santa Anita partners: movie mogul Hal Roach (left) and baseball team owner and former dentist Charles H. Strub.
Bottom photos:
Santa Anita's Charles Strub leads his management team, including General Manager Gwynn Wilson (left, behind Strub) on the "moving stairway" at the track.
Santa Anita Park upon completion in 1934
Photos courtesy of Santa Anita Park except where noted.
Panel 2
Opening Day Christmas Present
Sign text: Among the 30,777 people who found their way to Santa Anita Park in Arcadia on Christmas Day in 1934 and wagered $258,916, were celebrities Will Rogers and Al Jolson. Opening day crowds would only get bigger through the decades, with more than 71,000 fans crowding into the stadium in 1960.
Lights, Camera, Action! Hollywood at Santa Anita
Ever since 1930s film producer Hal Roach partnered with Charles H. Strub to finance Santa Anita, the track has been a magnet for Hollywood movie stars and producers. During its early years the parade of luminaries included Clark Gable, Betty Grable, Lou Costello, and Marlene Dietrich. Movie moguls such as MGM's Louis B. Mayer and stars ranging from Bing Crosby, Errol Flynn, and Spencer Tracy to Kevin Costner and Alex Trebek turned out to race their own horses at Santa Anita. Mayer was the top owner at the Santa Anita stables in the 1945 and 1946 seasons.
In addition to the Oscar-nominated "Seabiscuit" (2003), the famed track has served as the location for many other high-profile race-related movies beginning almost immediately after it opened with "Charlie Chan at the Race Track" (1936) and the Marx Brothers' madcap comedy "A Day at the Races" in 1937.
The track's distinctive interior areas such as the Chandelier Room have also been used each year in the movies starring the likes of Judy Garland ("A Star Is Born," 1954), Cary Grant and Ingrid Bergman ("Notorious," 1946), and for dozens of TV series such as "Brothers and Sisters" (2009). Chevy Chase and the cast of the 1983 National Lampoon comedy "Vacation" ran excitedly in front of the main front gates that served as the entrance to the Walley World theme park.
Santa Anita Enlists in War Effort
Santa Anita Park served a vital military role during World War II when the U.S. Government took over the facility, suspending racing from 1942-1944. During most of that time the track was converted into Camp Santa Anita, one of the largest Army ordnance training centers in the West. As many as 18,000 soldiers went through classes every four months. During those years, Santa Anita owner Charles Strub and his team raised more than $4 million for war programs and promoted USO Clubs throughout California. Bob Hope, Bing Crosby, Kate Smith, Red Skelton, Phil Silvers, and Bill "Bojangles" Robinson entertained the troops at Camp Santa Anita. The government briefly used the facility to house German prisoners of war before returning the track to Strub and the Los Angeles Turf Club on Sept. 9, 1944.
For six months following the surprise bombing of Pearl Harbor by the Japanese, the federal government used Santa Anita from March 30-October 27, 1942 as an assembly center with a peak population of 18,500-22,000 Americans of Japanese ancestry to be processed and sent to internment camps elsewhere. Santa Anita re-opened exactly one week after Victory in Europe (V-E) Day on May 8, 1945.
Golden Olympics Performance
More than a half-century after founder Charles H. Strub was inspired by the 1932 Olympics at the Coliseum in Los Angeles to build Santa Anita Park, the 52-year-old track played host venue for equestrian events when the Olympics returned to Los Angeles in 1984. A total of 232,158 people attended Santa Anita during the nine days of competition from July 29-August 12, with 250 horses representing 31 nations.
His Royal Highness Prince Philip of Britain, who was also president of the International Federation for Equestrian Sports, was so pleased and impressed that he sent a letter to Santa Anita's director for the Games at the track, Alan Balch, saying that his experience was by far the easiest and most rewarding of all five Olympics he had attended and in which he had participated. "It was the only time that the organizers actually knew anything about horses," he wrote. But it would not be the only time the world would know anything about Santa Anita and Arcadia.
Good Corporate Citizen
Since its founding, Santa Anita Park owners and managers have been exemplary community citizens in the City of Arcadia, donating many millions of dollars and supporting organizations such as the Arcadia chapter of the American Red Cross and, since 2000, providing the venue for Arcadia High School graduation ceremonies.
Most of the City's civic buildings in the 1990s and 2000s, such as fire station, City Council Chamber, Arcadia Public Library, and much of the police station were funded largely by tens of millions of dollars in revenue from Santa Anita.
Center photo: The Marx Brothers had the run of Santa Anita Park in the 1937 madcap comedy classic "A Day at the Races." (Courtesy Warner Home Video)
Bottom photo: Prince Philip — 2nd from left in peach jacket — during 1984 Olympics medal ceremony at Santa Anita with U.S. Gold Medalist Joe Fargis on podium #1. (courtesy of Santa Anita Park)
Credit: Arcadia Historical Society Historical Marker Committee (December 2009): Scott Hettrick (chairman), Carol Libby, Gary Kovacic, Gene Glasco, Don Swenson
Address:
85 W. Huntington Dr.
Arcadia, CA 91007
More markers