The Derby restaurant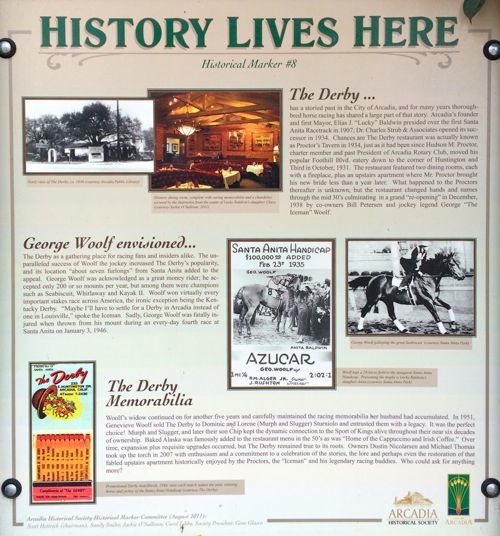 (Click image for enhanced view.)
Dedicated in 2011.
Sign text: The Derby has a storied past in the City of Arcadia, and for many years thoroughbred horse racing has shared a large part of that story. Arcadia's founder and first Mayor, Elias J. "Lucky" Baldwin presided over the first Santa Anita Racetrack in 1907; Dr. Charles Strub & Associates opened its successor in 1934, just as it had been since Hudson M. Proctor, charter member and past President of Arcadia Rotary Club, moved his popular Foothill Blvd. eatery down to the corner of Huntington and Third in October, 1931. The restaurant featured two dining rooms, each with a fireplace, plus an upstairs apartment where Mr. Proctor brought his new bride less than a year later. What happened to the Proctors thereafter is unknown, but the restaurant changed hands and names through the mid '30s culminating in a grand "re-opening" in December 1938 by co-owners Bill Petersen and jockey legend George "The Iceman" Woolf.
George Woolf envisioned …
George Woolf envisioned the Derby as a gathering place for racing fans and insiders alike. The unparalleled success of Woolf the jockey increased The Derby's popularity, and its location "about seven furlongs" from Santa Anita added to the appeal. George Woolf was acknowledged as a great money rider; he accepted only 200 or so mounts per year, but among them were champions such as Seabiscuit, Whirlaway and Kayak II. Woolf won virtually every important stakes race across America, the ironic exception being the Kentucky Derby. "Maybe I'll have to settle for a Derby in Arcadia instead of one in Louisville," spoke the Iceman. Sadly, George Woolf was fatally injured when thrown from his mount during an everyday fourth race at Santa Anita on January 3, 1946.
The Derby Memorabilia
Woolf's widow continued on for another five years and carefully maintained the racing memorabilia her husband had accumulated. In 1951, Genevieve Woolf sold The Derby to Dominic and Lorene (Murph and Slugger) Sturniolo and entrusted them with a legacy. It was the perfect choice! Murph and Slugger, and later their son Chip kept the dynamic connection to the Sport of Kings alive throughout their near six decades of ownership. Baked Alaska was famously added to the restaurant menu in the '50s as was "Home of the Cappuccino and Irish Coffee." Over time, expansion plus requisite upgrades occurred, but The Derby remained true to its roots. Owners Dustin Nicolarsen and Michael Thomas took up the torch in 2007 with enthusiasm and a commitment to a celebration of the stories, the lore and perhaps even the restoration of that fabled upstairs apartment historically enjoyed by the Proctors, the "Iceman" and his legendary racing buddies. Who could ask for anything more?
Top photos: Early view of The Derby, ca. 1936 (courtesy Arcadia Public Library)
Historic dining room, complete with racing memorabilia and a chandelier secured by the Sturniolos from the estate of Lucky Baldwin's daughter Clara. (courtesy Jackie O'Sullivan, 2011)
Center photos: Woolf tops a 20-horse field in the inaugural Santa Anita Handicap. Presenting the trophy is Lucky Baldwin's daughter Anita (courtesy Santa Anita Park)
George Woolf galloping the great Seabiscuit (courtesy Santa Anita Park)
Bottom image: Promotional Derby matchbook, 1946; note each match names the year, winning horse and jockey of the Santa Anita Handicap (courtesy The Derby)
Azucar, 1935, Geo. Woolf
Top Row, 1936, W.D. Wright
Rosemont, 1937, H. Richards
Stagehand, 1938, N. Wall
Kayak II, 1939, J. Adams
Seabiscuit, 1940, J. Pollard
Bay View, 1941, N. Wall
Thumbs Up, 1945, J. Longden
War Knight, 1946, J. Adams
Address:
233 E. Huntington Dr.
Arcadia, CA 91006
More markers