L.A. County Arboretum & Botanic Garden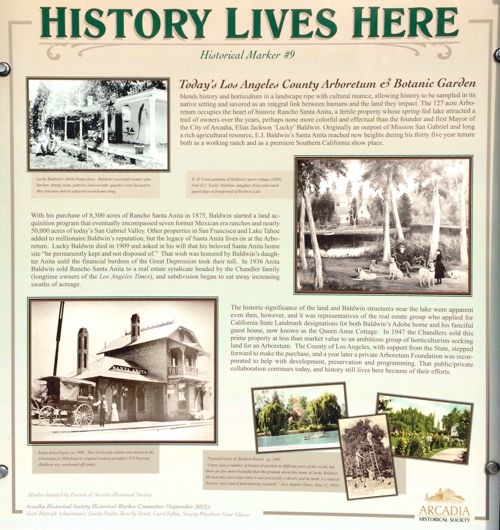 (Click image for enhanced view.)
Location: At the front entrance, below the flagpole.
Dedicated in 2012.
Sign text: Today's Los Angeles County Arboretum & Botanic Garden blends history and horticulture in a landscape ripe with cultural nuance, allowing history to be sampled in its native setting and savored as an integral link between humans and the land they impact. The 127-acre Arboretum occupies the heart of historic Rancho Santa Anita, a fertile property whose spring-fed lake attracted a trail of owners over the years, perhaps none more colorful and effectual than the founder and first Mayor of the City of Arcadia, Elias Jackson "Lucky" Baldwin. Originally an outpost of Mission San Gabriel and long a rich agricultural resource, E. J. Baldwin's Santa Anita reached new heights during his thirty-five year tenure both as a working ranch and as a premier Southern California show place.
With his purchase of 8,500 acres of Rancho Santa Anita in 1875, Baldwin started a land acquisition program that eventually encompassed seven former Mexican era ranchos and nearly 50,000 acres of today's San Gabriel Valley. Other properties in San Francisco and Lake Tahoe added to millionaire Baldwin's reputation, but the legacy of Santa Anita lives on at the Arboretum. Lucky Baldwin died in 1909 and asked in his will that his beloved Santa Anita home site "be permanently kept and not disposed of." That wish was honored by Baldwin's daughter Anita until the financial burdens of the Great Depression took their toll. In 1936 Anita Baldwin sold Rancho Santa Anita to a real estate syndicate headed by the Chandler family (longtime owners of the Los Angeles Times), and subdivisions began to eat away increasing swaths of acreage.
The historic significance of the land and Baldwin structures near the lake were apparent even then, however, and it was representatives of the real estate group who applied for California State Landmark designation for both Baldwin's Adobe home and his fanciful guest house, now known as the Queen Anne Cottage. In 1947 the Chandlers sold this prime property at less than market value to an ambitious group of horticulturists seeking land for an Arboretum. The County of Los Angeles, with support from the State, stepped forward to make the purchase, and a year later a private Arboretum Foundation was incorporated to help with development, preservation and programming. That public/private collaboration continues today, and history still lives here because of their efforts.
Top photo, left: Lucky Baldwin's Adobe home place. Baldwin's personal room(s) plus kitchen, dining room, pantries and servants' quarters were located in this structure and its adjacent wood frame wing.
Top photo, right: H. H. Cross painting of Baldwin's guest cottage (1889). Note Lucky Baldwin, daughter Anita and ranch guard dogs in foreground of Baldwin Lake.
Bottom photo, left: Santa Anita Depot, ca. 1900. This brick train station was moved to the Arboretum in 1968 from its original location at today's 210 Freeway (Baldwin Avenue eastbound off ramp).
Postcards, bottom right: Views of Baldwin Ranch, ca. 1905.
Lake at Lucky Baldwin's Ranch, near Pasadena.
Packing oranges at Lucky Baldwin's Ranch.
"I have seen a number of botanical gardens in different parts of the world, but there are few more beautiful than the grounds about this home of Lucky Baldwin. He took this vast estate when it was practically a desert, and he made it a land of flowers, trees and of fruit-bearing orchards." (Los Angeles Times, June 11, 1893)
Marker donated by Friends of Arcadia Historical Society
Address:
301 N. Baldwin Ave
Arcadia, CA 91007
(626) 821-3222
More markers