Thoroughbred Racing Walk of Champions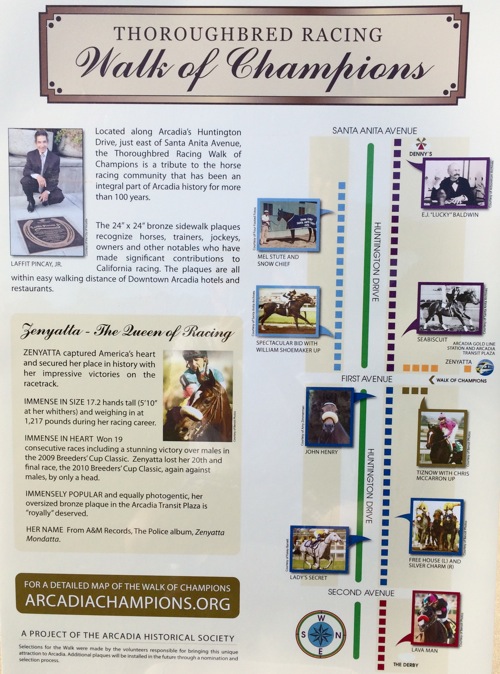 (Click to view enhanced image.)
Location: Arcadia Transit Plaza, adjacent to the Zenyatta plaque.
Sign text: Located along Arcadia's Huntington Drive, just east of Sana Anita Avenue, the Thoroughbred Racing Walk of Champions is a tribute to the horse racing community that has been an integral part of Arcadia history for more than 100 years.
The 24″ x 24″ bronze sidewalk plaques recognize horses, trainers, jockeys, owners and other notables who have made significant contributions to California racing. The plaques are all within easy walking distance of Downtown Arcadia hotels and restaurants.
Zenyatta: The Queen of Racing
ZENYATTA captured America's heart and secured her place in history with her impressive victories on the racetrack.
IMMENSE IN SIZE 17.2 hands tall (5'10"at her withers) and weighing in at 1,217 pounds during her racing career.
IMMENSE IN HEART Won 19 consecutive races including a stunning victory over males in the 2009 Breeders' Cup Classic. Zenyatta lost her 20th and final race, the 2010 Breeders' Cup Classic, again against males, by only a head.
IMMENSELY POPULAR and equally photogenic, her oversized bronze plaque in the Arcadia Transit Plaza is "royally" deserved.
HER NAME From A&M Records, The Police Album, Zenyatta Mondatta.
View detailed map of the Walk of Champions.
A project of the Arcadia Historical Society. Selections for the Walk were made by the volunteers responsible for bringing this unique attraction to Arcadia. Additional plaques will be installed in the future through a nomination and selections process.
More markers
> Back to historical marker index