Arcadia Historical Society's upcoming events (2017):
May 13
Honoring the Arcadia Chinese Association
The Arcadia Historical Society will honor the Arcadia Chinese Association for its 35 years of service to the community.
Event features a program, Chinese buffet and entertainment by Tony Licata.
Cost: $20 per person
5:30 p.m., Church of the Good Shepherd, United Methodist, 400 W. Duarte Road, Arcadia
May 21
Friends' Garden Tea
Sandwiches, beverages, desserts
Cost: $25 per person
2 p.m. in Carol Libby's garden, 438 W. Norman Ave., Arcadia.
June 10
Lucky Baldwin Poker Tournament and dinner
Save the date for the Los Angeles Arboretum Foundation's Lucky Baldwin Poker Tournament and dinner. Tickets now on sale. Event benefits the Arboretum's Landmark Structures. For more information or sponsorship opportunities, please contact Emily Rosedale-Kousoulis and Margaux L. Viera at LuckyPoker@Arboretum.org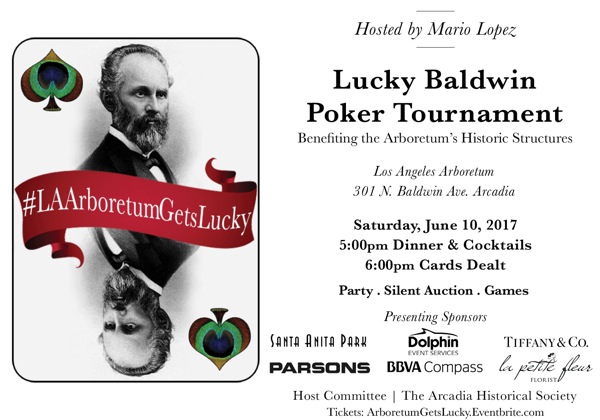 Month of August
"John Muir, From Yosemite to Arcadia" exhibit
Includes first editions of Muir's writings, courtesy of Ed Andersen
Arcadia Public Library, 20 W. Duarte Road
Aug. 26
"John Muir, From Yosemite to Arcadia"
presented by Ed Andersen
1 p.m., Arcadia Public Library, 20 W. Duarte Road
Nov. 12
Arcadia Historical Society's 65th birthday
Murder mystery dinner
5 p.m., Prince Erik Hall, 2607 S. Santa Anita Ave.,
Arcadia